I get it. I've been there! Please know I will work with you to ease any fears or concerns you may have. Counseling does not have to be scary or long term. Many find that only a handful of sessions can make a difference in lifting a mood, changing direction, improving a relationship, or achieving a goal. For those who want or need longer-term support, that's fine, too.
During our first session we'll discuss together what brings you in, your goals, and how best to approach the work. We'll continue to revisit these goals as our time together continues. You're free to change your mind, change direction, or decide when you're done. I just ask that we continually keep the communication open so that I can best support your goals.
While you may see me (or any other therapist) as the "expert", it's really you who is your own best expert. My role is to help you better understand yourself, your choices, your strengths, and your struggles. It's not my job to tell you what to do, but I may explore what the possible pros or cons of a certain decision or relationship might be. I may see certain patterns or motivations behind previous choices that you yourself have not yet seen. And with that new knowledge, change can be much easier. Or, maybe you're going through a difficult life transition, like the loss of a job or the death of a loved one? Maybe you're struggling with illness yourself or a challening medical diagnosis? Counseling can provide a safe and confidential place to explore the full range of your emotions. Exploring your feelings and options can help you not only survive a difficult time in your life, but moreover set the stage for continued success. Not only can you survive, you can thrive.
Even people who appear to have it all—success, money, and good looks—may feel differently deep down. "If they only knew, then they'd realize I'm..." "I'll always be alone." "I hate my job." "I hate my body." How does feeling this way serve you? Does it help get what you want or is it getting in the way? If the answer is "it's getting in the way," then I will work with you to help fundamentally change the way you think and feel. What we think about, what we focus on, and how we spend our time and energy is what our lives become. Our thoughts become our feelings. Our feelings become our actions. Our actions become our destiny. Our destiny becomes our legacy.
Which legacy do you want?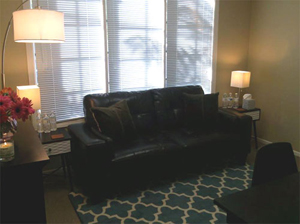 Here's a sneak peek inside my office.